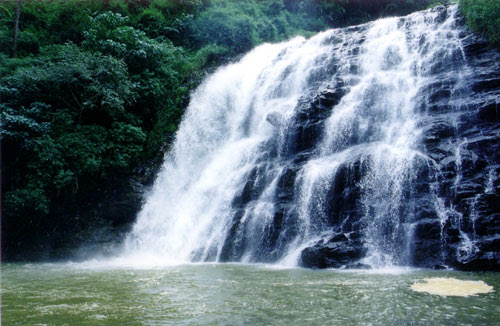 Madikeri is a cornucopia of times past. The green, hilly capital of the Kodagu region has remnants of its past like the Madikeri Fort, the Raja's seat - where you can catch a sunset just like the rajas once did - acres of coffee estates and the Raja's tomb where the Kodagu king Veerarajendra and his family sleep their eternal sleep. About 9km away from Madikeris giddy heights are the Abbey Falls, which falls daintily in steps, looking like a pretty curtain of the finest lace. The Talacauvery where the Cauvery originates is the hotbed of a phenomenon every year - on the 17th of October, at a predetermined moment, the water gushes up at the fountainhead from a spring.
Bylekuppe, about 40 km away from Madikeri, opens doors to an entirely different world. The Buddhist colony here is a piece of Tibet in itself, and the ubiquitous maroon and yellow robes will have you double-checking if you're still in South India or not. Along with Buddhist monks, Coorg also has some really big cats for neighbors. Nagarahole or the Rajiv Gandhi National Park has some impressive residents - tigers, leopards, elephants, bison, crocodiles, pythons, what have you. With so many experiences on the platter, Welcome to nature! never had it this good, like it does at Coorg.
Distance from :
Mysore - 120 kms
Mangalore - 139 kms
Bangalore - 256 kms
Tucked away between private coffee and spice estates, Abbey Falls (9km from Madikeri) offers a splendid backdrop for picnics. As you make your way past stocky coffee bushes and tall trees entwined with pepper vines, the falls make a sudden and dramatic appearance as they cascade their way down steps into limpid pools to join the Cauvery River. The ideal time to visit the falls is during the monsoon, when they are at their best.
Distance from :
Mysore - 129 kms
Mangalore - 136 kms

Dubare Elephant Camp
Once the training camp of the famous Mysore Dasara elephants, Dubare Elephant Camp beckons wildlife enthusiasts as well as travellers. The Camp has been developed by Jungle Lodges and Resorts with the aim of protecting these gentle giants. Spend hours simply observing elephants in action, or learn about their habits and participate in various daily activities involving elephants like feeding and bathing. A trained naturalist is at hand to explain the various aspects of elephant history, ecology and biology. Get an insight into these amazing creatures at one of India's unique ecotourism destinations.The moist deciduous forests of Dubare are home to many wild animals and birds. Sighting of wild Asiatic elephants are regular and so is spotting the sambar and the spotted deer. tiger, leopard, wild dogs,gaur and bears are also seen in these forests. Crocodiles can be seen in river. The forests are also home to many reptiles non-venomous snakes.
Getting there
Dubare is easily accessible from Bangalore. The route from Bangalore is via Mysore,Kushalanagara , Gudde Hosur (4 km from Kushalanagara on BM Road), then turn towards Siddapura. About 15 kilometer on the Siddapura Main Road visitors would find a Dubare Camp board.
Coorg - 36 kms
Mysore - 120 kms
Mangalore - 136 kms
Bangalore - 260 kms
---
---
code: 02
Home stays / Estate stays around Madikeri
Madikeri Estate stay ( Coorg)
This estate is located in Madikeri, the heart of Coorg, there's plenty of sightseeing and heritage sites within close driving distance. Trek around the estate and surrender to its tranquility, watch for local and migratory birds or fish in the in-estate pond. Coorgi delicacies and freshly brewed coffee can be provided for you on request.
To make your stay convenient This Estate provides the necessary facilities. cottages are well set up with all the amenities you need to have a comfortable stay. Enjoy traditional Coorgi homemade delicacies, camp out around a bonfire with the family or stay in and enjoy a movie or your favorite TV show while sipping on some aromatic coffee brewed fresh from the estate around you. This estate cater to you and are intent on providing the best Coorg has to offer.
Coorg, the 'Scotland of India' offers you the peace and bliss of nature. Like the coffee that grows here, the little district in the Western Ghats fills you with a refreshing sense of life. The pleasant climate and the Kodava people add to its charm. An adventurer's playground or an artist's muse, Coorg has something for everyone.
Near by Places : Talacauvery,Bagamandala,
Omkareshwara Temple, Igguthappa,Abbey Falls and many more...
LCD TV with Sundirect & Airtel Digital Cable

Arrangements for camp fire on prior request

Lunch and Dinner on prior request

Cab/Taxi arrangement on prior request

GUIDE arrangement on prior request
| | | |
| --- | --- | --- |
| Plan | | C P |
| Adults | | Rs.4000/ night. for Couple. |
| Kids 0-5 yrs | | Complimentary |
| Kids 5-12 years | | Rs. 800 |
The cottage can accommodate a family of 5 members.
Lunch / Dinner will be served on prior request at an extra cost.
Bookings will be confirmed against full advance payment for the total number of room nights.

Reservations made prior to 2 days of the check-in date cannot be cancelled. In case of cancellation the amount will be forfeited.

75 % refund in case of cancellation less than 14 days & prior to 2 days of the check-in date

90 % refund in case of cancellation 15 days prior to check in date

In case of the guest checking out prior to the date of departure, no amount shall be refunded.

In keeping with the mandatory requirements of the Government we request you to provide a copy of your photo-identity proof while checking-in. Foreign nationals are required to submit a copy of their Passport and valid Visa. Indian nationals can submit a copy of any one of these, which is mandatory: Passport, Driving License,

---
---
Code: 03
Coorg Estate Stay (Near Madikeri)
This Estate Stay is for the people who love nature and wanted to explore nature by being part of it.This estate stay offers the guest a variety of delightful coorgie dishes & refreshing drinks .One can explore the finest kodava(coorgi) dishes.For traditional hospitality, food and exchange the unique culture of this tiny district.
5 special room, 2 Independent Cottage, Overall Accommodation for 25 members.

3 Special rooms with beautiful surrounding

This Estate Stay offers the guests a variety of delightful coorgie dishes and refreshing drinks.

Cottages- Rs.3000 with breakfast .

Speciality : Calm and Serine atmosphere. A Home away from Home. "Hospitality is our Speciality" and Guests are our Gods " Athithi Devo Bhava".

Check in and checkout time: 11 AM to 11 AM
Rs.250/- per meal (Buffet Vegetarian)
Rs. 300/- per meal (Buffet Non Vegetarian)
One can explore the finest South Indian, especially kodava (Coorgi) dishes
Starters and soft drinks will be charged extra (Nominal charges)
Bonfire with Good music system

We shall provide you Guitar

Guide/ driver on nominal charge

Guided tour to 50 acres of working coffee and spices plantation

Broad Band Internet connection provided for nominal charges

Trekking inin thisr private estate with 50 acres of coffee estate
This Estate stay offers the guest a variety of delightful coorgie dishes & refreshing drinks .One can explore the finest kodava(coorgi) dishes.
---
---
code: 04
Home Stay (Estate Stay) is 5 kms away from madikeri
This Home Stay (Estate Stay) is 5 kms away from madikeri , which offers the majestic charms of coorg culture. Cottage is situated in the middle of lush green coffee estate with coorg orange, pepper, cardamom, spice and fruit plants.
The specialty of this holiday home is having a 250 year old heritage home where everyone can experience the cultural heritage of coorgies lifestyle.
Places to visit in and around this place :
Kotebetta, Gandhi Mantap, Omkareshwara Temple Gaddige, Abby Falls, Cauvery Nisarga Dhama, Harangi, Nalknad Palace, Heritage Home, Irupu Falls , Bhagamandala, Napandapole Falls, Pushpagiri Hill, Bhagandeshwara Temple, Mallalli Falls, Thadiyandamo, Chelvara Falls Dubare Forest, Golden Temple, The Fort, Raja Seat, Bramhagiri Line of Hills, Talacauvery and Eshwara Temple.
Tariff : Cottages Rs.3000/- per couple with breakfast.
---
---
code: 05
Estate stay

It is an estate stay amidst green rich coffee estate. A hideout, totally away from the buzzing life of metropolis. It is not designed to provide luxury dwelling. But you have all the comforts of clean room, TV, hot water, separate kitchen, 'Hande Snan', traditional way of heating bathing water in a concealed vessel using fire wood.This Estate Stay will introduce a dream come true experience. Situated in a valley, 15 KMs from Madikeri, has in store many surprises to be explored.It has a main house and a cottage nestled inside a coffee estate. The main house has two rooms and an attic. One room has an attached kitchen. The low roofed Attic is a perfect place to sleep tucked inside the blanket, play cards, carom board, snake and ladder or so. It's also a perfect place to enjoy tea, coffee or any other drinks of your choice! The main house can take a crowd of 25.The Cottage, few meters away from the main house has a twin room with an attached bath overlooking a stream with a mini water pond.
This Estate has other activities to keep the guests engaged for full day in the same surrounding. BURMA BRIDGE provides an exciting walk from tree to tree on the rope. TREE TOP NET will take you near the chirping birds where you can relax, twenty feet above the ground!
PARAGOLA is a place to escape with books or music n a cup of coffee…The SILENT WATER STREAM and a natural mini pond invite everyone to play, splash and watch. TREKKING inside the sloppy eleven acre Coffee Estate or through the country side will rejuvenate your energy. You may bump against rare plants, trees or birds in the course. OPEN SHOWER in the yard will be fun after a sweating walk or trekking
Accommodation & Tariff

Estate has two units. The main unit has two rooms with an attic.(Attic is a low roofed first floor) House with a capacity of 25 People ( Rs.750/ person). There is another twin roomed cottage with a capacity to hold up to 8 People. If it is just a couple, tariff will be Rs.3000/ couple (three thousand per couple) with breakfast. If it is a group, 750 per head.